each crate explores many different subjects, so the crates are awesome for homeschooling! In the crate we received, we explored history, science, math, art, reading, and writing.

the colors. As you can see from some of the site's photos below, this isn't a box full of pink and purple glitter. Red, blue, yellow! Whoo hoo!

the range of activities for different interests. My oldest loves art, so decorating the planes was a hit! My middle daughter loves anything active, so the high-flying aerial stunt game was her cup of tea!

the packaging. The crate was fun, modern, and not over-the-top.

everything needed to have fun was included in the crate. I didn't need to leave my house (or change my yoga pants) and buy a single thing.

the "fact" card featuring the chosen woman. On Bessie's card, there's a place for your little learner to write how she was brave like Bessie. My middle daughter responded, "When I had my surgery." (Adenoid removal is a BIG deal to a 4.5 year old!). We hung up Bessie's card in our home learning space, and we plan to add more cards as our crates come in.

reasonably priced. Some crate subscriptions are ridiculously expensive and not in the budgets of many families I know. With the affordability and the amount of things you get in a crate, you can rest assured the crate will deliver as promised! And think, you could put a crate subscription on your child's holiday or birthday wish list!
Here's what you need to know (and want to know) about the company, the crates, and the creators:
Rachel: What inspired you to create GIRLS CAN! CRATE?
(Megan) This is such a great question and a hard one to answer briefly! With GIRLS CAN! CRATE, we wanted to create more than just a product. As a mama to a 4 year old, my daughter is consistently "told" that her value is in her appearance and that too many things are "just for boys." Not too long ago she said to me, "Mom, let's play prince and princess. I'll be the princess, you be the prince, and you rescue me." I want my little girl to be a confident problem-solver, who stands up for herself and for other people.
I've spent the last decade in the nonprofit sector working to combat educational inequity and sex trafficking. There is a significant gender achievement gap in the United States that must be addressed...and the consequences of it are far reaching. Women are significantly more likely to hold minimum wage jobs, live in poverty, experience violence and abuse. Women also hold less than 15-20% of leadership positions in all sectors and hold less than 25% of all STEM jobs (science, technology, engineering and math), the most in-demand and one of the most influential career fields.
We created GIRLS CAN! CRATE to address these gaps by empowering girls to believe they can BE and DO anything. Most toys created for girls today are related strictly to appearance. It is our goal that as girls engage in fun, hands-on STEAM (science, technology, engineering, art, and math) activities and are introduced to diverse fearless women who have helped make the world better, they will build confidence in themselves, their abilities and their potential to also help change the world. In order to help ALL girls reach their full potential, we will donate a portion of all proceeds to three nonprofit organizations working to empower girls.
Rachel: How is your product different than other products on the market?
(Monika) What really sets GIRLS CAN! CRATE apart from o
ther
gynocentric t
o
ys is the fact that we highlight accomplished women from history. We say, "Look at this amazing lady! She was real and she did something incredible! She persevered!" Many of the woman we highlight had to overcome what seemed like insurmountable circumstances. I don't think you can read about them and not want to puff out your chest and grab your cape. And obviously, there is a delightful convenience (and joy) of having something delivered. The ease of having everything you need to create something in one exciting box! Parents don't have to come up with a project and then run to their local craft store.
Additionally, I think the fact that we are all women ourselves means we deeply know our audience. We know their struggles and aspirations because we have experienced them.When we are thinking up activities we aren't thinking about the bottom line, we are thinking about how our daughter or niece would interact with them. We are educating the next generation of women and it's something we take very seriously.
Rachel: What can girls expect when they receive their crate?
Simply put, girls can expect a crate full of inspiration. The boxes are fun, fresh, and creative. Your kids will be so excited for their new box to arrive monthly. Here's what you (the kiddo!) can expect in a monthly box:
- You're going to get mail...in your name! How cool!
- A 20 page activity book filled with a story of a fearless woman, games, puzzles, and art/craft projects you can do at home.
- 2-3 educational, hands on activities that are STEAM based (Science, Technology, Engineering, Arts, Math). These will help you realize how FABULOUSLY smart you are!
- All the "tools" you'll need for these activities - markers, paints, scissors, glue.
- You'll get or make costume pieces (like an aviator hat).
- A character trading card for you to collect
Rachel: What about parents and educators?
(Megan) Parents can expect ALL OF THE ABOVE and:
Their kids will have FUN and their kids will LEARN important skills and lessons that last after the crate is closed.

Fearless, diverse female role models (Our goal is that ANY little girl can open our crates and see what can be possible for her.)

Practical everyday tips on how parents can help girls develop important character traits and mindsets (For example, tips to help girls grow more fearless, to develop positive body image or handle failure)

All the high-quality materials they need, no need to run to the store!

Quality time with their kiddos working through the crate
As a former teacher, educators are my people! Our crates feature seriously inspiring ladies from different races, ethnicities, backgrounds, and career fields that their students will love meeting. Inspiring women, and particularly women of color, are way too often underrepresented in school and in curriculum. Teachers will easily be able to align the activities in our crates to math, science, literacy and history standards, while fostering critical thinking and ensuring their students have FUN!
Rachel: What can we anticipate seeing from your company in the future?
(Kristen) One of the great things about what we're doing and what we're about is that there's no shortage of inspirational ladies for young people to learn from. Here's a teeny tiny taste of what's to come...our next box features several inspiring female artists and includes everything kids need to create their own masterpieces, make some unique costume pieces and some fun science experiments. We're hard at work finishing up box 3 which features a lady who helped change the medical field...kids will LOVE making their own medical equipment that actually works, creating life-sized body maps and more. We've already said too much. Don't you love the element of surprise? In the near future, we'll be adding additional resources to support parents in addressing additional questions or challenges that arise for their kids as they learn about these inspiring women and what they had to overcome. Eventually, w
e hope to launch a crate to empower older kids to become social innovators who combat urgent social problems. Additionally, we want to engage in great and challenging conversation through our blog. We would love to invite those who are working to fight against the world's ugliness or who want to celebrate what is beautiful to share their thoughts, experiences, expertise, and inspiration with us and our audience.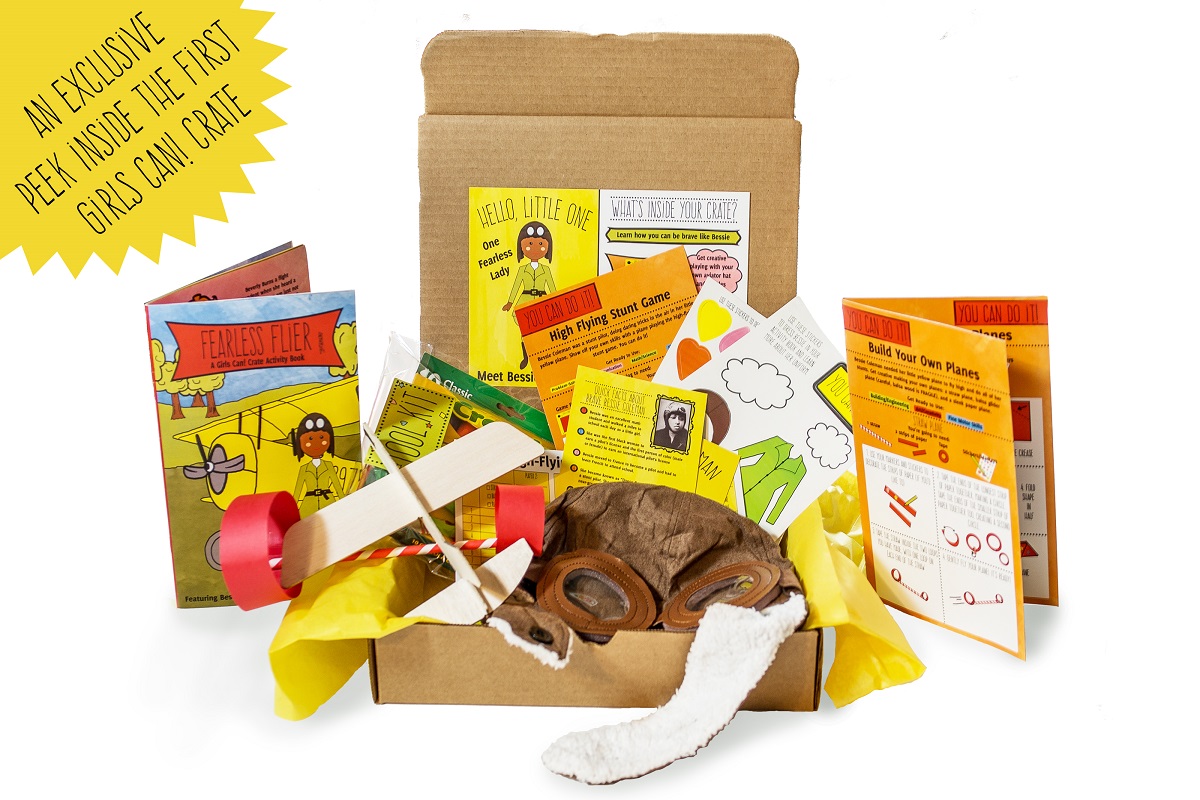 A little more information…
Crates start at $25.95/mo and you'll get to choose which nonprofit your purchase will go towards during check-out! There's a new crate every single month and you can start month-to-month or sign up for a 3, 6, or 12 month plan for added savings. Subscribers always have the option of "pausing" their subscription if more time is needed between shipments. You can help us spread the inspiration! Once you sign up, you can invite friends too. You'll have the opportunity to share a $10 off coupon with friends and for every friend that subscribes, we'll give you $10 off your next purchase! A savings win/win!
for 25% off your first crate, WHITE SUGAR BROWN SUGAR readers can enter code SUGAR25 at checkout